You Are Welcome.
A Place
To Be
With God
Church Walk, Altrincham WA14 4TT || Sunday services @ 8am & 9:30am
A place to be with God.
Express, grow and explore your faith
We are a welcoming community of faith that seeks to honour the traditions of the church in a way that revives, refreshes and equips us for our life in the present, and helps guides us for the opportunities & challenges of the future.
​
A place for everyone to belong.
We are a multi-generational community, drawn from all walks of life.
During the winter months we will often talk about how we are a 'warm' church both in terms of the temperature, but, more importantly, in our welcome as people come explore life at St George's at their own pace.
We welcome everyone, regardless of what age you are, how much noise you (or your children!) make. If you, or your children, have special needs we will seek to work with you to make sure that St George's is a place you can call home too.
​
A living, active, community.
We believe that our faith makes a difference to how we live and work.  We are committed to serving our parish and beyond during the week. Do come and be part our coffee mornings, Knit & Natter & Soup Lunch – regardless of whether you come to our services or not.
​
Families and young children
At the heart of the community
With you at all stages of life
Christenings | Weddings | Funerals
A Church for the community
Be a part of what's going on midweek
Holy Week & Easter is on it's way!
Starting with Palm Sunday: a donkey (!) and a lunch… come and be part of it!
And for families: Easter Crafts & Lunch!
'Hosanna to the King of Kings!'
Sunday, 2nd April:
11.15am for those wishing to parade.
11.30am for those wanting to start at church followed by our Palm Sunday lunch.
Join this yearly parade & service, complete with a real donkey!
For the parade, we meet at the cross opposite The Old Market Tavern and The Orange Tree Pub, just off the A56 Old Market Place  Road, WA14 4DB
Children's Easter Crafts and lunch
Friday, 7th April 10am
Come and be part of our Easter extravaganza for children! With 10 stations of crafts, followed by an Easter Egg Hunt and a scrumptious party lunch, this is a fantastic way to start the Easter weekend!
Tickets are £3 per child (adults free), but if this is in any way a problem, do get in contact.
April 2nd & April 9th
At the pinnacle of the Christian Faith, Easter Day is our biggest celebration and we'd love to repeat the success of the Advent Pop-Up Choir with an Easter equivalent!
So with just one rehearsal, come and add your voices to others as we prepare to celebrate the day that changed the course of history for ever….
Joined us in the past 6 months?
Returned after some time away?
We'd love to invite you to our Welcome Evening in April.
Designed to help you get a feel for what St George's is about, how to get involved and ask any questions, we'll also serve up some light refreshments too!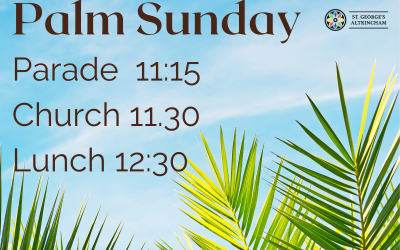 Everyone is very excited as we get ready for Palm Sunday – the donkey is booked, the food is ready so come and be part of it.
Our next Confirmation Service has been booked! Come and be part of it! In the midst of all that is going on in Holy Week, we're also busily getting ready for our next confirmation serivce.  Confirmation is a wonderful way of exploring & deepening your faith. Each...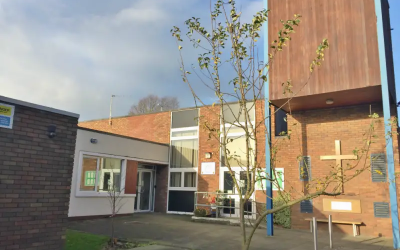 Altrincham CE Primary School Latest Ofsted report has come out … and it's GOOD with one area OUTSTANDING! We're delighted that the much anticipated Ofsted Report for 2023 has been made public. We are thrilled that the school has been classed as 'GOOD' in all areas...
Address
St George's Parish Church
Church Street
Altrincham
Greater Manchester
WA14 4DB
0161 941 4037
Sign up to our Newsletter