Children and families at St George's Church
A Church where everyone can be involved and play their part
New Here?
​We are a welcoming, multi-generational church community
where children and teenagers are very welcome
and have an important part to play in the life of St George's!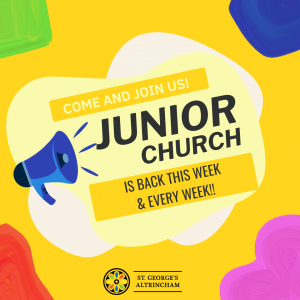 Sunday Service:
9.30am
In Church
Children are really important to us, and it's important to us that young children feel at home in their church which we know will come with some noise and energy depending on their mood!
Each Sunday we have some fantastic provision for our children. Normally, they will join us at the start of the service and then go out with Dee and her team to enjoy their own session and let off some much needed steam! Sometimes we have a fun filled family service (for things such as Harvest) at which point they stay in, playing a full part in all that's going on.
For those younger, and indeed, for any children who would prefer to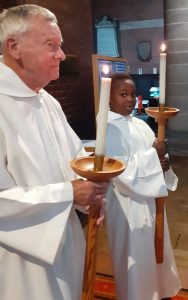 stay in the service there is a children's area where they can explore all that's on offer during the service. Also, as they get older, many of our children play an active role in our services by doing things such as reading and being the acolytes (carrying the candles) which we love!​
After the service, we all gather for coffee and biscuits, and our children get well and truly spoilt!
Church is a wonderful way for children to get comfortable speaking to a wide range of people, and gives their adults some space to reflect on the week and get a hot drink too at the end of it!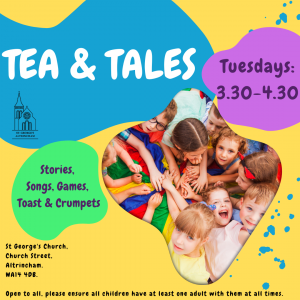 Tea & Tales
Tuesdays, 3.30-4.30 Term Time.
Church/Parish Centre
We know that Sunday can be a day of conflicting demands on a families time. So on Tuesdays we gather today for a relaxed, and informal service straight after school. It's open to everyone (regardless of what school you go to), and is particularly aimed at children at primary school. It's followed by a light tea, and is a wonderful community to be part of.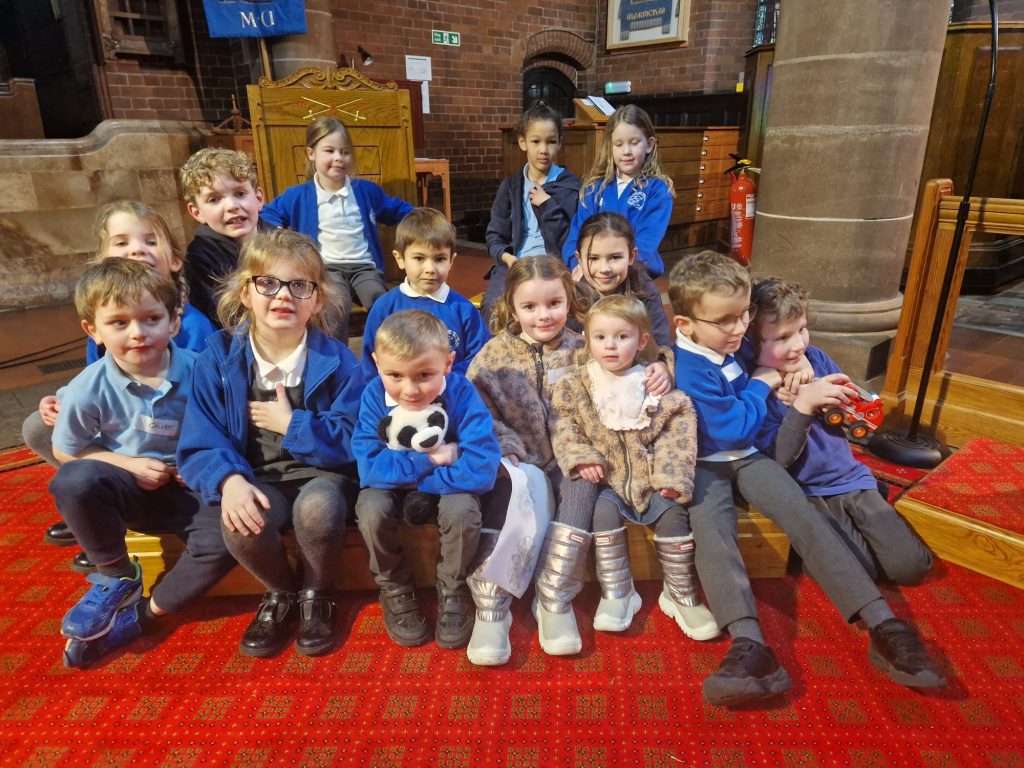 ​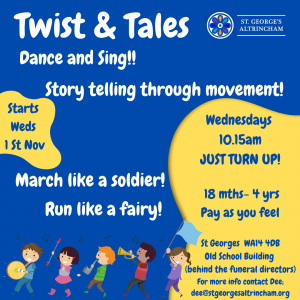 Twist & Tales Coming Soon!

Wednesdays 10.15 Term Time STARTS Weds 1st Nov
Old School Building (WA14 4DB)
(behind the funeral directors next to the Church)
We are beyond excited to introduce our next new group! For Toddlers and their carers, a space to explore dance and movement, tell stories and make new friends along the way.
PAYF – please do spread the word!​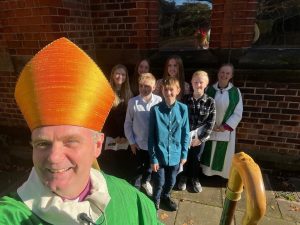 Confirmation:
Yearly
Vicarage/Church
For many of our children, when they get to the end of primary school (or indeed, any age – adults are welcome too!) they decide that they want to make their baptism vows their own by getting confirmed.  We meet together for a few weeks before and after, and then Bishop comes to pray specifically for them. It's a really joyous service, with lots of cake and celebration afterwards!
If your children would like to be confirmed, do get in touch with Rev. Claire – the next Confirmation is currently being planned for the 21st May at 4pm.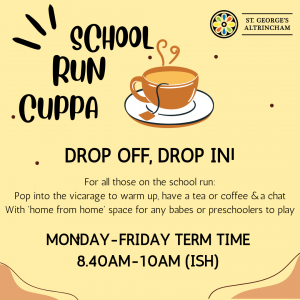 School Run Cuppa
Weekdays, 8.45am-10am (ish) Term Time
Vicarage
Watching lots of parents shivering at the school gate after drop off, we came up with an idea – why not chat in the warmth of the Vicarage and enjoy a hot drink while we're at it?!
So each morning we head to the vicarage for some comfy chairs, hot drinks and great company – come and meet some new friends and stay warm in the process!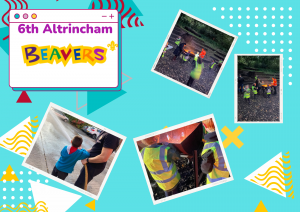 Uniformed Groups – Beavers, Cubs, Scouts
Different Days
Parish Centre/Old School Building
We are also proud of the have a number of Scouting Groups that we have affiliated to St Georges where children get to make new friends, have adventures and grow in curiosity and resilience.
We also have really good relationships with the Rainbows and Guides that meet in our Parish Centre too.
All our uniformed groups are invited to various Parade Services during the year, at which they get opportunities to share what they have been doing, as well as grow in skills such as Public Speaking.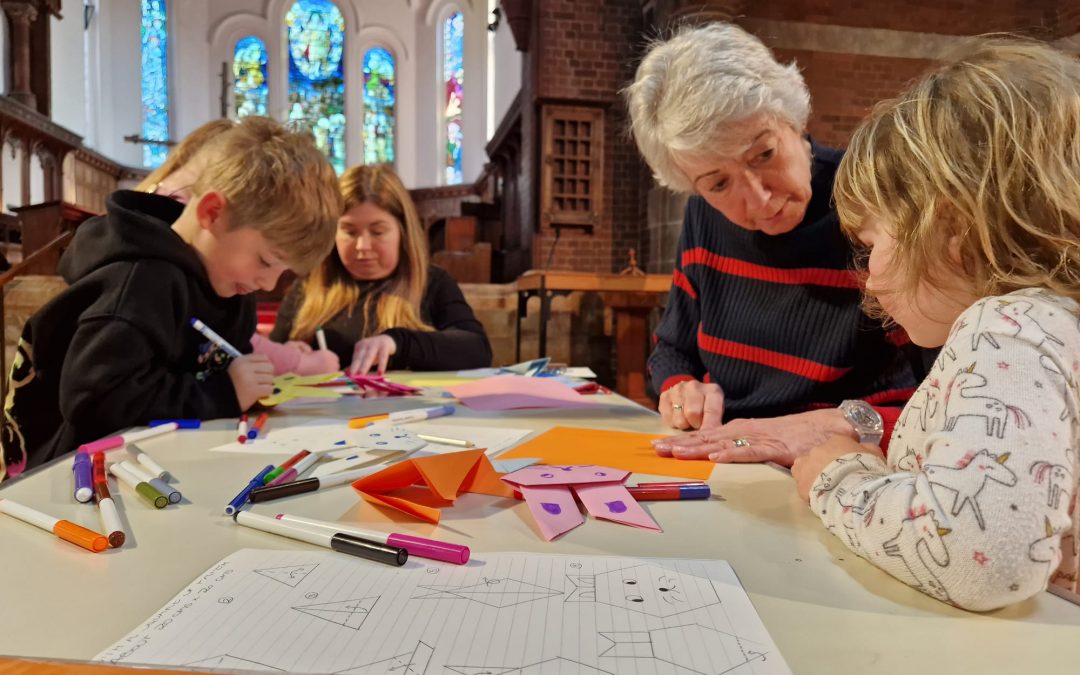 We are in the midst of Volunteering Week and so it was a lovely way to start the week by giving thanks to everyone who has been a part of what we've done this year. The more we think about it, the more we realise how many people that has been! We don't receive any...
Address
St George's Parish Church
Church Street
Altrincham
Greater Manchester
WA14 4DB
0161 941 4037
It costs us £2000 a week to run our church, groups and services.
Might you be willing to be part of it by donating to our work?
Sign up to our Newsletter