Mid-Week Communion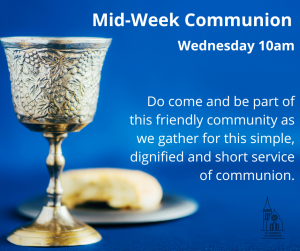 Our Mid-Week communion is a wonderful, simple service that enables us to re-orientate ourselves as the week moves forward.
It's a wonderful place for those for whom a church is familiar, but is an equally good place to start for those for whom church might be outside of their current experience – it's small enough not to be intimidating, but big enough to feel held and a great place to make new friends.
It's a said service that lasts 30 minutes – so there are no hymns, and it has a short homily as well. We also pray each week for our town of Altrincham and those working and living within it, so if you ever feel like you would like some prayer, do let us know as it would be a privilege to do so.
St George's Church
Church Street
Altrincham
,
Greater Manchester
WA14 4DB
UK