Tea & Tales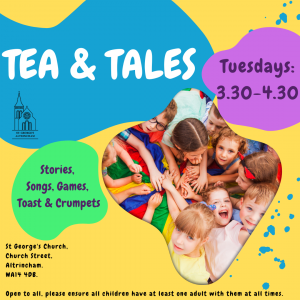 Our Tea & Tales is a much loved service, ideal for those who cannot make a Sunday but are looking for a service that is geared towards families and young children.
Straight after the school run, come along to this interactive, all-age service where we explore our faith through songs, bible stories and prayer. Immediately afterwards, we all head over to the Parish Centre for some light tea of toast and crumpets!
Open to everyone, regardless of what school your children might go to.
St George's Church
Church Street
Altrincham
,
Greater Manchester
WA14 4DB
UK