You Are Welcome.
A Place To Be With God.
Church Walk, Altrincham WA14 4TT| Sunday services @ 8am & 9:30am
Frequently asked questions:
What do I wear?
Whatever you feel comfortable in. Some people like to wear something smart, other people might like to wear something more casual. From joggers to casual or smart, everything is acceptable.
Do we have to pay?
Our regular services are free to attend, but as we are not funded by the Government, there is an opportunity to donate to the life and work of the Church, which is of course, voluntary. Many people donate via standing order, so if you don't wish to donate, that is absolutely fine –  no-one will know!
Christenings are free but Weddings and Funerals are subject to a statutory charge.
Are children welcome?
Absolutely yes. Families and children are most welcome here at St George's. We have a children's area within the church and there is no pressure to 'keep them quiet' at all, during the service.
Where do I park?
There is parking right in front of church, and, if you have accessibility issues, just in front of the Parish Centre (Church Walk, WA14 4DB)
For other parking, please use the staff car park and playground of our neighbours Altrincham Primary School (at the top of Townfield Road, WA14 4DS)
How do I find out more about St George's?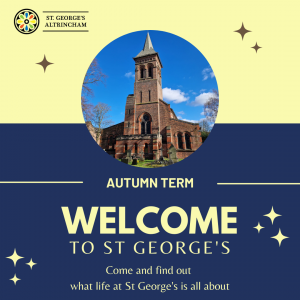 The last one was in April and we're planning another in the autumn term. We will be offering some refreshments, so please do sign up here to let us know that you and interested, and any dietary requirements that you might have.
Express, grow and explore your faith
We are a welcoming community of faith that seeks to honour the traditions of the church in a way that revives, refreshes and equips us for our life in the present, and helps guides us for the opportunities & challenges of the future.
​
About St George's Church
Our faith matters to us – whether for some of us are just exploring what faith might mean, or for those us all who have been on this journey for year,  we try and allow our faith to infiltrate our week ahead.  So as a church, we also seek to provide space for our community to meet, make friends, and, especially this year, enjoy some warmth, hot drinks and food.
​
Get in Touch
If you have any more questions, or are unsure about anything, please do reach out and contact us.
​
Address
St George's Parish Church
Church Street
Altrincham
Greater Manchester
WA14 4DB
0161 941 4037
It costs us £2000 a week to run our church, groups and services.
Might you be willing to be part of it by donating to our work?
Sign up to our Newsletter