After a long search, we are delighted to be able to announce that Russell Medley is to be our new Organist and Musical Director.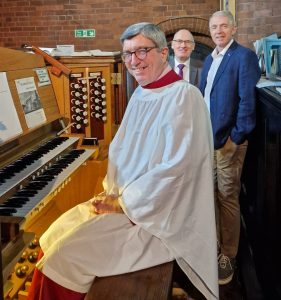 We met Russell by chance; Russell is the Director of Sale Choral Society, and he came to play a funeral of a much loved member. He and Rev. Claire got chatting about our plans to revitalise our musical tradition in the hope that he might know someone who knew someone! However, in the course of the conversation, Russell was hooked and the rest is history!
Russell has an impressive CV, and is currently a Senior Vocal Coach/Repetiteur at the Royal Northern College of Music (RNCM) in Manchester.  He is also the Musical Director of the Sale Choral Society, and has been the Musical Director of the Lindow Singers and the Northern England Chorale. He specialises in the organ, piano, double bass, composition and conducting. He has performed around the world, and spent many years as an examiner for the Associate Board of the Royal Schools of Music (ABRSM). He has also been the Assistant Chorus Master of the Halle Chorus, and has worked with young people at Moreton Hall School in Shropshire and the Centre of Young Musicians in The Hague, alongside establishing a thriving private teaching and coaching practice too.
The really exciting thing about Russell's appointment are our plans to start two new choirs.  Many of us at St George's may not be musical, but we have musical children! This has been because someone has taken an interest in them and given them top quality lessons which means that a whole musical world has been opened up. We are keen to do the same.
So, working in partnership with Altrincham CE Primary School, from September 2023 we're going to start a new Children's Choir – Altrincham Trebles!
Aimed at KS2 to begin with, this choir will be held weekly after school and will be a fun and a fantastic community.
Our choir will be focused on teaching our pupils how to sing properly, how to read music and for those that want it, they will be fully prepared to sit the relevant ABRSM exams—setting them up for any musical adventure that they want to peruse in secondary school.
In other words, we'll be able to offer free musical tuition that will last your child a lifetime.
But it won't just be children that we are providing choral experiences for!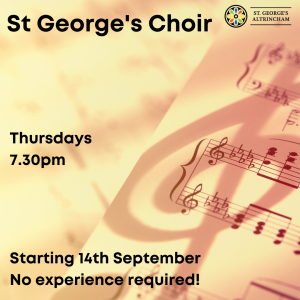 We are keen to revitalise our adult choir too, and build an exciting community with a strong repetoire which will encompass experienced choral singers alongside people keen to learn to a new skill too. So why not come along and be part of it?!
Alongside all of this, we also want to say a HUGE thank you to Professor Barry Cooper who, after initially saying he'd do a few months for us by stepping in when our previous organist moved jobs, ended up covering for a number of years! Barry has been nothing short of outstanding – deeply talented, generous and kind, we could not have been better served. Barry is looking forward to having a bit more free time (!), alongside being a member of the choir.