Well, what a day Sunday 10th was!
We started the day welcoming two new team members. Dee, who is our Children & Families Lead, and Josie who is our new Ordinand (a posh word for a Trainee Vicar). Dee has felt God prompting her for some time that, after having children, it was time for her to 'step up' and 'step out'. At the same time, we had started conversations with the school about employing someone to both help us grow our work with children & families, and also deepen our links with the school. The two came together for Dee then saw our advert, came to meet us and decided that this was the place to start! Dee started on Wednesday and has spent the week beginning to get to know things work, and has started to introduce herself to the staff and children of the school.
Josie reached her teenage years convinced that she was going to go into the navy – but we're delighted that God had other plans! So she started to sense that God was calling her into 'ordained ministry' to become a Priest. So last year she found herself in Macclesfield doing a Ministry Experience year, and this year, she starts her training and has her placement with us. We're beyond thrilled!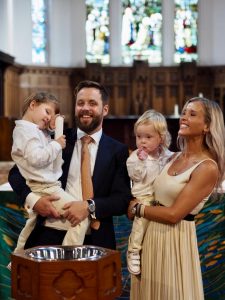 If that's not enough to enjoy a Sunday, we then finished the day with an equally special occasion – a Christening of two wonderful boys. Christenings are always a time to treasure – an opportunity to give thanks for the miracle that our children are, invite Jesus to be part of their lifelong faith journey, and have a family celebration at the same time! It was a really joyous service, and the perfect way to finish off what had been a very special day!
If you'd like to explore a Christening (also called a Baptism) or arrange a Thanksgiving, do head here for more information. We Baptise from 0-105 (!) and will be having an Baptism Service for older children and adults on Sunday 29th October – so do let us know if you'd like to explore being part of that too.