Uniformed Groups at St George's
With you every step of the way
A church where everyone can find a home
We're so delighted to have a thriving Scouting section – and so proud of what they do!
Whether it's Beavers, Cubs or Scouts, we hope that all the young people involved have a great time as they develop fantastic friends and have many adventures along the way!
Different Days
Beavers, Cubs & Scouts
Parish Centre/Old School Building
We are proud of the have a number of Scouting Groups that we have affiliated to St Georges where children get to make new friends, have adventures and grow in curiosity and resilience.
Scouting is open to boys and girls, and a lifetime of adventure awaits as they make new friends, grow in confidence and learn many life skills along the way.
For more information, follow the link below. It will automatically take you to a waiting list, but someone will quickly be in touch!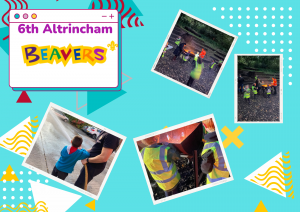 Various days and times
Guiding 
Church
Although not affiliated with us, we're delighted to host a thriving guiding section in our Parish Centre.
Different days throughout the year
Parade Services
Church
W
All our uniformed groups are invited to various Parade Services during the year, at which they get opportunities to share what they have been doing, as well as grow in skills such as public speaking.
After the service, we all gather for coffee and biscuits (and often, bacon butties as well!), and our children get well and truly spoilt!
Church is a wonderful way for children to get comfortable speaking to a wide range of people, and gives their adults some space to reflect on the week and get a hot drink too at the end of it!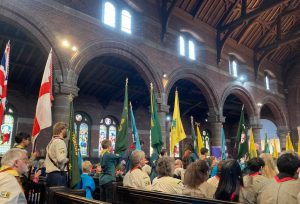 Be part of St George's
We Gather Every Sunday
Sundays 8-8.30am
Sundays 9.30-10.30am
Plan Your Visit
You can find us at St George's Church, Church Street, Altrincham, Greater Manchester. WA14 4DB. Parking is available both in front of church, in the car park in front of the Parish Centre and (outside of school hours) also with our neighbouring school, Altrincham CE Primary School just off Townfield Road, WA14 4DS.
Special Needs?
We know it can be daunting going to a new place if you or someone you know or are responsible for, have special needs. We are committed to making our church as inclusive as possible, so please do get in touch to discuss how we might enable St George's to be a place for you.
First time?
We know that joining a new group can be hard, especially when you've not been there before or don't know anyone.
Please be assured that nearly everyone starts off in the same boat, and that we are very relaxed and go out of our way to make you feel quickly at home.
If you are feeling particuarly anxious, and would like to meet a 'friendly face' before going in, or perhaps have a quick phone call to check everything out, do get in touch here and we can easily arrange it.
Address
St George's Parish Church Church Street Altrincham Greater Manchester WA14 4DB
0161 941 4037
It costs us £2000 a week to run our church, groups and services.
Might you be willing to be part of it by donating to our work?